Who Are We? - We represent the cross section of Dhangarpal community, that holds considerable part of population in the states like Uttar Pradesh, Andra Pradesh, Karnataka, Maharashtra and Tamil Nadu. Our effort is to unite the community members and take active participation in both nation building and individual growth planning.
Why Are We Here? - We are here to give global representation for our community that is spread across the country with different names such as – Pal kshatriya, Dhangarpal, Kuruba, Baghel, Hatkar, Gadderia, Charvaha, Gwala, Nabbhar, Kanchane, Saila, Lingayat etc. We provide channel for the youth among our community to showcase their skills and grow ahead in their career, let it be IT, Academics, Civil, manpower services or any other stream where talent or knowledge is evaluated.
What Are Our Needs? - Our community is generally treated as shepherds or cattle-owning caste in India. Their poor living circumstances and low literacy level make it hard for them to explore the life of mainstream business, even though there are many talents hidden in them.
How We Plan to Proceed? - Under the visionary leadership of those Pal community members who decorate high profile in the society, we plan to develop a full time engagement council to provide guidance, support and assistance for the community members in terms of employment, education, marriage and other socially committed activities.
Pal Kshatriya Samachar Archive
Accolade to Mr. Jagmohan Pal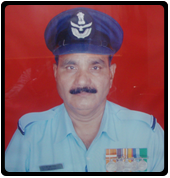 Mr. Jagmohan Pal
Mr. Jagmohan Pal, is a Retired Indian Air Force Officer, with 38 years successful service in the different parts of India. After retirement from the service, he is now concentrating on the upliftment of youth and human resources of Pal Kshatriya community. Academics, IT, service industry, media and certain other potential fields have many vacancies. With his guidance the deserving ones from the community can find their career in the mainstream business. Through this site and the Pal service centers, we are trying to open the doors of opportunity for the trained, deserving youth of the Pal-Kshatriya community.